From the John & Rico Collection of
Art Nouveau Antiques
From
The Drawing Room of Newport
_______________________________________________________
__________________________________________________
_________________________________________
_______________________________
_____________________
_______
# 4986. A German Art Nouveau Display Cabinet. Size: 57" x 23" x 97.5" tall. In two sections: the upper display cabinet opens only from each side; the glass shelves inside are 10" x 41" long; one mirrored shelf on the bottom and two adjustable glass shelves. The glass shelves, mirrors and brackets are contemporary. The side glass and front glass appear to be period to the cabinet. There are modern halogen lights in the upper display area. The lower section has two drawers and a cabinet which reveals three wood shelves. The wood is veneer oak with strong Art Nouveau flower decorations in relief. Condition: there is some veneer loss and some veneer surface lifting on the top of the cabinet on which the glass cabinet sits. The side doors to the glass cabinet are very tight to open: they lock and there are replacement keys to each side. Not a 'finely' made cabinet piece but very effective. Paper drawer liners indicate that this cabinet came from Remscheider, Germany (the liner is actually an advertizing poster with names of about 30 businesses. The poster appears to be from the 1970's) and we suspect that it was used in some fraternal or military museum for display of historical objects. This cabinet would be an excellent display unit for a collection of glass, pottery or militaria. Price: $5,000.00.
---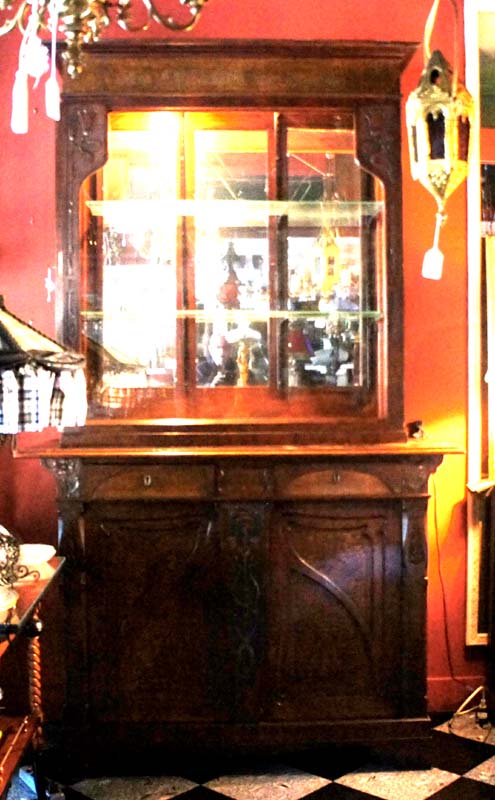 ---
---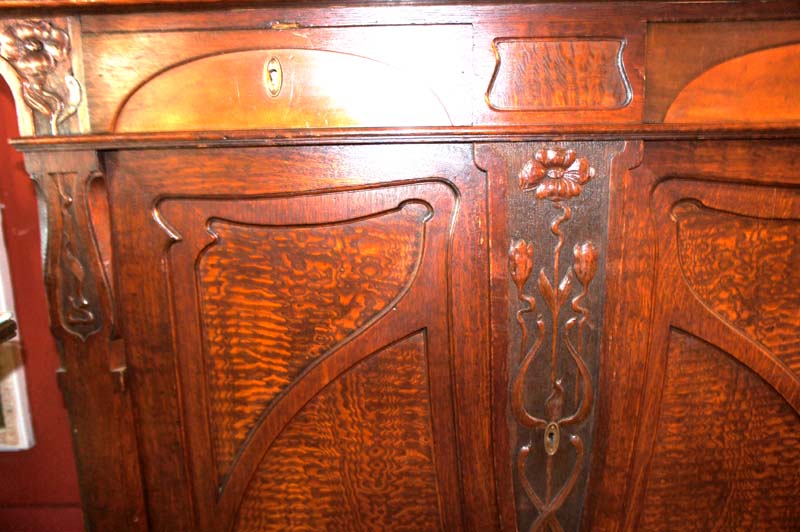 ---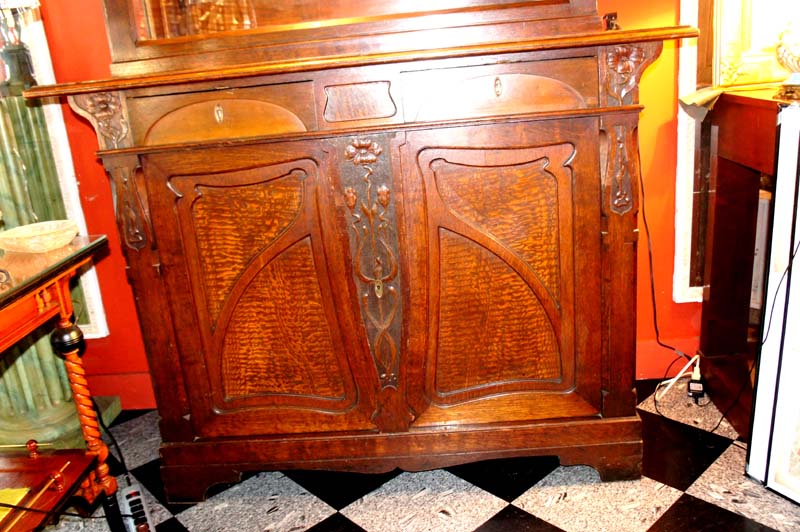 ---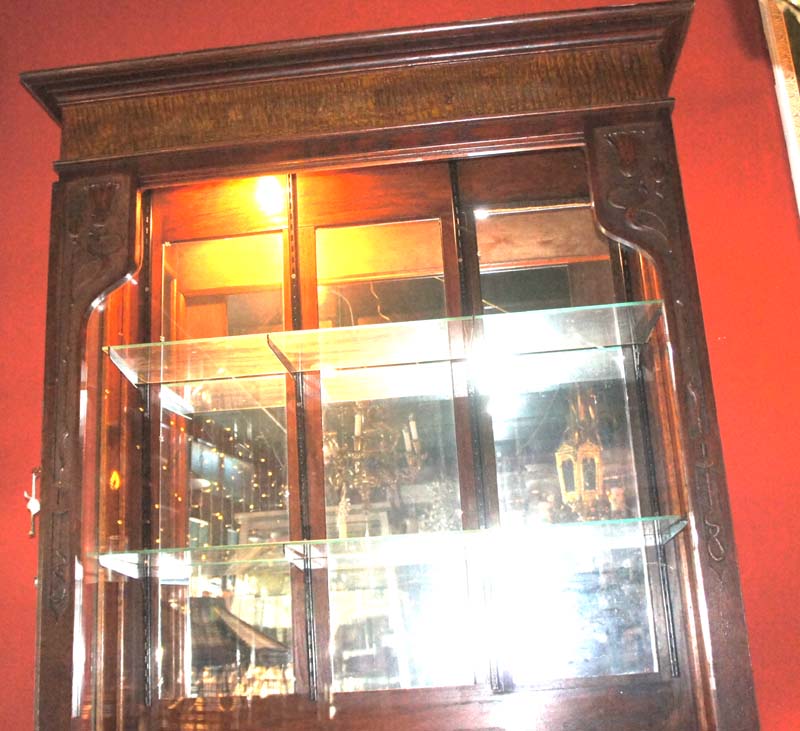 ---
---
---
---
Click on your back button to return to the previous page.
---
HOME PAGE FOR THE DRAWING ROOM OF NEWPORT
ZSOLNAY // FURNITURE // GLASS // PORCELAIN // POTTERY // METAL
LIGHTING // PAINTINGS // EPHEMERA // TEXTILES // GOTHIC // MISCELLANEOUS
---
The Drawing Room is located at 152-154 Spring Street, Newport, Rhode Island 02840.We are open daily from 11 am to 5 pm and by appointment. If you have an interest in an item listed in this document or wish to purchase an item, please call us at 1-401-841-5060 (cell: 401-261-3980). The Partnership of Gacher and Santi has been in business for over 30 years. We have been located in Newport since 1985. Our email address

is: drawrm@hotmail.com All images copyright by F. Santi, 2010

Free counters provided by Honesty.com.

Visitors since 01-17-01