The Zsolnay Store
Item # 4882. A Vase c. 1900. Form number 5444. Earthenware with acid-etched surface. The colors are metallic eosin green, purple, blue, lilac and gold. Size: 10.5" x 6.25" at the middle. Condition: scuffs consistent with use and age and there appears to be a repaired lamp hole in the under base. The form of this vase was pressed by the artist to create the indentations creating the random appearing form: really a very modern and new way of presenting art pottery. Other artist such as George Ohr with his Biloxi Art Pottery was experimenting with this technique. He along with the Zsolnay Factory exhibit at the 1904 St. Louis Exhibition and I would believe that Zsolnay possibly brought similar examples as this one to that exhibition. This glaze is an excellent example from a factory whose specialty was metallic glazes. A similar example of this vase is pictured on page 52 of Richard Stattner and Monika Csiba's excellent book titled: "Zsolnay Masterpieces of the Hungarian Art Nouveau." From a Cape Cod private estate.
---
---
---
---
---
---
Please note the minor scratches to the glaze.
---
The Marks: "Zsolnay" " 5444", "2", "M", "22", and what is left of a painted dotted mark. Note what appears to be a lamp hole in the center of the vase.
---
Close up images of this spectacular glaze look like images of solar systems taken by the Hubble Telescope.
---
---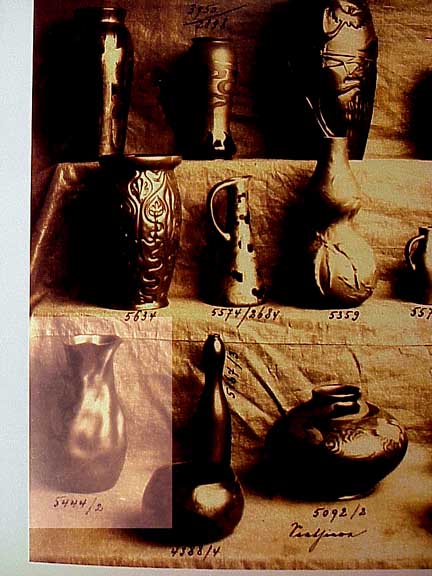 Above is a period photo showing Zsolnay factory production including the free form Zsolnay shown on this site.
---
Click on you back button to return to the Zsolnay Store site or go through the links below.
---
---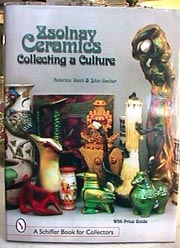 "Zsolnay Ceramics Collecting a Culture" with price guide: "This beautifully illustrated guide to Zsolnay ceramics, featuring over 400 color photographs, covers the three main periods of Zsolnay production, including 1868 to 1897-Folklorism, Historicism & Victorian Eclecticism; 1897 to 1920-Art Nouveau (Secession in Central European terms) and Art Deco (Second Secession); 1920 to the present-Modernism. An entire chapter; fully illustrated is also dedicated to Zsolnay marks to help collectors identity their pieces." This book is 191 pages and is a large format hard cover. The over 400 color photos detail Zsolnay by size, form number, date of production and current market value. Price: $49.95 + shipping.
---
The Drawing Room ( and The Zsolnay Store) is located at 152-154 Spring Street, Newport, Rhode Island 02840.We are open daily from 11 am to 5 pm and by appointment. If you have an interest in an item listed in this document or wish to purchase an item, please call us at 1-401-841-5060 / cell phone 401-261-3980. The Partnership of Gacher and Santi has been in business for over 25 years. We have been located in Newport for over 11 years. Email us at:drawrm@hotmail.com