Fine Art from
The Drawing Room Antiques.
---
"Head of Pan"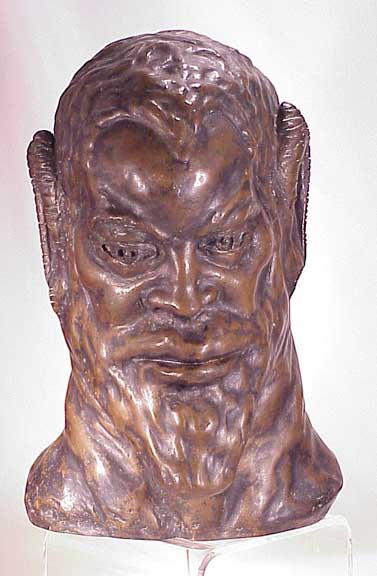 # 4865. A bronze head of "Pan". Signed N. Dimitrieff and dated 1937. Size: 11" tall. Very heavy cast bronze weighing 14lbs. Marked: Roman Bronze Works. (The following is the only other reference we can find about this artist: Dimitrieff, N. V., sculptor. Bedi-Rassy Art Foundry, founder. Title: Alexander Pushkin (1799-1837), (sculpture). Dates: 1941. Dedicated 1949. Medium: Statue: bronze, painted black; Base: granite. Dimensions: Statue: approx. 4 x 3 x 3 ft.; Base: approx. 6 x 5 x 5 ft. Inscription: N. V. Dimitrieff/1941 BEDI-RASSY FOUNDRY N.Y.C. (On front of base, raised:) PUSHKIN/1799 - 1837 signed Founder's mark appears. Description: A waist-length portrait of Alexander Sergeevich Pushkin, wearing long sideburns and dressed in traditional 19th century gentleman's clothes, including a cape which hangs over his proper right shoulder and flows around his back to his proper left side. He holds a scrolled paper with text inscribed into it in his proper left hand. His proper right hand is raised up to his chest. The portrait is painted black and is installed on top of a tapered stone base. Scroll Object Type: Outdoor Sculpture -- New Jersey -- Cassville Sculpture Owner: Administered by Jackson Township, Department of Public Works, Jackson Township, New Jersey 08527 Located Pushkin Park, Rova Farm, Intersection of Route 571 & Perrineville Road, Cassville, New Jersey Remarks: Alexander Sergeevich Pushkin, 1799-1837, a poet and dramatist, introduced Romanticism into Russian literature. The monument was erected on the 150th anniversary of Pushkin's birth. Repository: Inventories of American Painting and Sculpture, Smithsonian American Art Museum, P.O. Box 37012, MRC 970, Washington, D.C. 20013-7012 Control Number: IAS NJ000261) Price $9,500.00.
---
The Flange on the underside allow the bronze head to be mounted.
---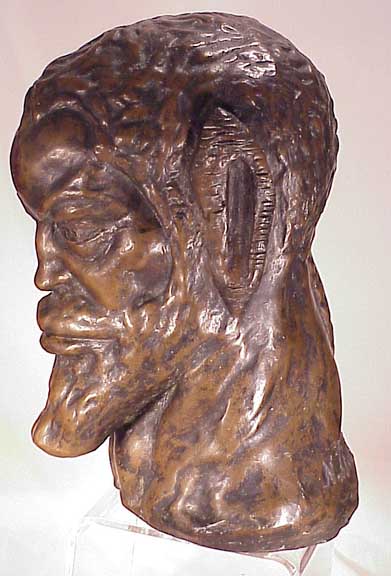 ---
---
---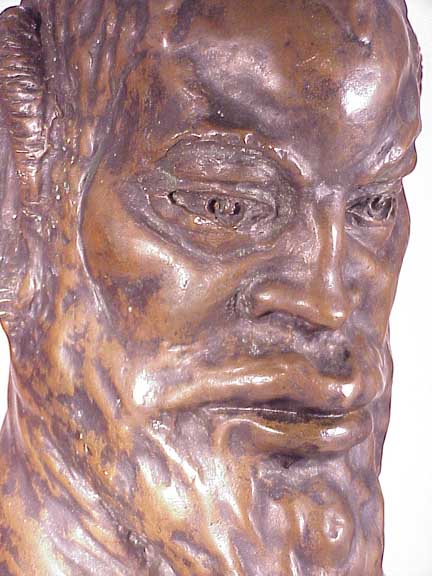 ---
Click on your back button to return to the previous page.
---
HOME PAGE FOR THE DRAWING ROOM
---
ZSOLNAY // FURNITURE // GLASS // PORCELAIN // POTTERY // METAL
LIGHTING // PAINTINGS // EPHEMERA // TEXTILES // GOTHIC // MISCELLANEOUS//CLOCKS
---
The Drawing Room is located at 152-154 Spring Street, Newport, Rhode Island 02840.We are open daily from 11 am to 5 pm and by appointment. If you have an interest in an item listed in this document or wish to purchase an item, please call us at 1-401-841-5060. We have been located in Newport since 1985. Our email address

is: drawrm@hotmail.com