John & Rico's
Antique Lighting from The Drawing Room
---
---
---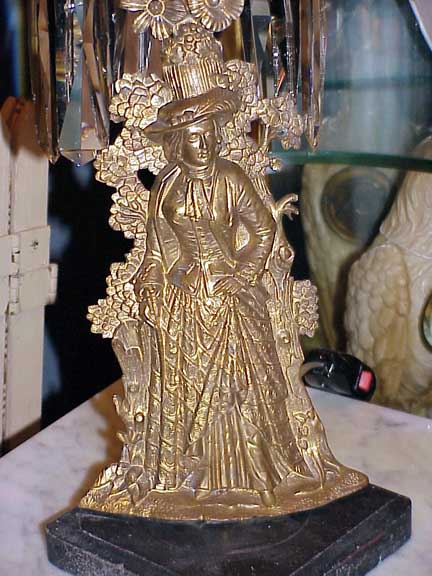 # 4801. A single American Girandole. Incised mark "Cornelius & Co. Patent April 10, 1849" Commonly called the Colonial Lady model; made in Philadelphia this Girandole was sometimes coupled with a Colonial Officer Girandole. Mounted on a square painted slate base 5" square. The Girandole is 15.5" tall to the top of the candle cup. Fitted for electricity (can easily be unfitted with no drilling used in electrifying) with the shade and electric candle adding another 10" to the height. This form does represent Cora Munro a character from The Last of The Mohicans by James Cooper. The prisms are consistent in age and appear to be period to the Girandole. This patina is worn but there is some gilt finish left on the figure, less gilt finish on the stem and prism ring. The prism ring uses the bird decorative motif. This makes an attractive electrified candle lamp. Price is $550.00.
---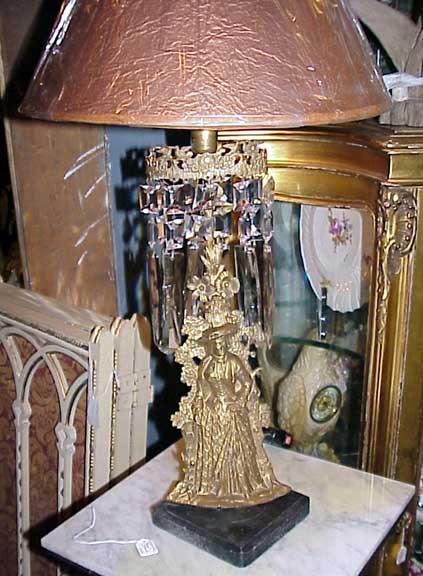 ---
---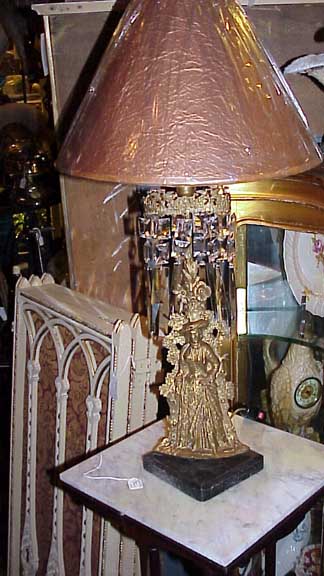 ---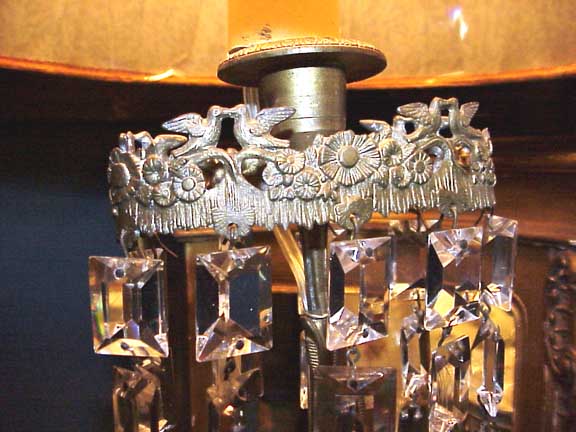 ZSOLNAY // FURNITURE // GLASS // PORCELAIN // POTTERY // METAL
LIGHTING // PAINTINGS // EPHEMERA // TEXTILES // GOTHIC // MISCELLANEOUS
THE DRAWING ROOM OF NEWPORT AND THE ZSOLNAY STORE HOME PAGE
---
The Drawing Room is located at 152-154 Spring Street, Newport, Rhode Island 02840.We are open daily from 11 am to 5 pm and by appointment. If you have an interest in an item listed in this document or wish to purchase an item, please call us at 1-401-841-5060 (cell: 401-261-3980). The Partnership of Gacher and Santi has been in business for over 30 years. We have been located in Newport since 1985. Our email address

is: drawrm@hotmail.com

Free counters provided by Honesty.com.

Visitors since 01-17-01