THE ZSOLNAY STORE
Item # 4757. A Zsolnay Vase. C. 1896. Size: 13" tall with a 6.25" footprint. 41" circumference. Marks: Millennium mark (lamp hole drilled) from around 1896. This large Zsolnay vase shows the influence of Italian Gubbio school of glazing. Others experimenting with this decor were William Frend De Morgan and Pilkington Tile & Pottery both of England. Deep Maroon underglaze with gold eosin overglazing. There is also a Lilac Eosin highlight to areas of this vase. The very metallic reflections take on different colorations in different light. Condition: lamp hole; lip repair as noted and fracture line (must have happened when the lip was broken) to the opposite side of the lip repair. Minor scuffs to the glaze consistent with use and age. This vase is the largest size with this particular glaze decoration that we have had. P.O.R.
---
---
---
---
---
---
---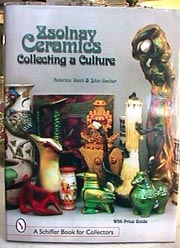 "Zsolnay Ceramics Collecting a Culture" with price guide: "This beautifully illustrated guide to Zsolnay ceramics, featuring over 400 color photographs, covers the three main periods of Zsolnay production, including 1868 to 1897-Folklorism, Historicism & Victorian Eclecticism; 1897 to 1920-Art Nouveau (Secession in Central European terms) and Art Deco (Second Secession); 1920 to the present-Modernism. An entire chapter; fully illustrated is also dedicated to Zsolnay marks to help collectors identity their pieces." This book is 191 pages and is a large format hard cover. The over 400 color photos detail Zsolnay by size, form number, date of production and current market value. Price: $49.95 + shipping.
---
---
The Drawing Room and The Zsolnay Store is located at 152-154 Spring Street, Newport, Rhode Island 02840.We are open daily from 11 am to 5 pm and by appointment. If you have an interest in an item listed in this document or wish to purchase an item, please call us at 1-401-841-5060. The Partnership of Gacher and Santi has been in business for over 30 years. We have been located in Newport since 1985.
Email us at drawrm@hotmail.com

If you have an interest in knowing more about Zsolnay, check our Ephemera Link: we stock two excellent publications on the subject of Zsolnay. If you wish an evaluation about a Zsolnay item in your collection, just send us a photo with notations of size, condition and marks along with a self addressed stamped envelope and we would be glad to help you. And . . . of course we are always interested in purchasing fine examples of Zsolnay ceramics.
Newport RI

Free counters provided by Honesty.com.

Visitors since 01-17-01