John & Rico's
Antique Pottery from The Drawing Room of Newport.
# 4754. A pottery garden seat. c. 1870's. Size: 22" tall x 12" across at the top x 14" across at the base. Condition: a section of banded border is missing around the base; minor staining and edge flakes consistent with use and age. Country of origin: probably Germany. Consistent with works from the Mettlach Factory. The factory was established in an abbey in Mettlach Germany around 1836 and continued until 1921. Heavy stoneware with three part construction. The pillow at the top is slightly unlevel to allow water to run off the surface. Four rams heads and four dogs heads add to the decorative elements. As a side note: in the Franco Zeffirelli Film La Traviata, three of these garden seats were used in room decorations. The opening scene in Violetta's home as it is being carted off. A pair of these garden seats is seen in Violetta's country home in her garden room going up the stairs. Each garden seat in these scene has a potted plant on it. This sumptuously decorated film used exquisite furnishings. From a local Newport Rhode Island home. This item may be shipped safely via Fedex or UPS. The price for this garden seat is: $2,750.00.
---
---
The green line shows the area of beaded edge loss.
---
The pillow on the top has a very realistic appearance.
---
---
---
Note the edge loss to the right of the dog head.
---
---
---
Click on your return button to go back to the previous page or:
Enter here for the Pottery site of The Drawing Room of Newport
Offering a Luxury Bed and Breakfast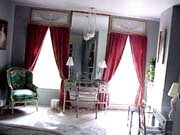 Suite in the Heart of Newport
---
ZSOLNAY // FURNITURE // GLASS // PORCELAIN // POTTERY // METAL
LIGHTING // PAINTINGS // EPHEMERA // TEXTILES // GOTHIC // MISCELLANEOUS
THE DRAWING ROOM OF NEWPORT AND THE ZSOLNAY STORE HOME PAGE
The Drawing Room is located at 152-154 Spring Street, Newport, Rhode Island 02840.We are open daily from 11 am to 5 pm and by appointment. If you have an interest in an item listed in this document or wish to purchase an item, please call us at 1-401-841-5060. (cell phone: 401-261-3980)Our email

address is: drawrm@hotmail.com All images copyright by F. Santi, 2004

Free counters provided by Honesty.com.