John & Rico's
Antique Lighting from The Drawing Room
---
---
---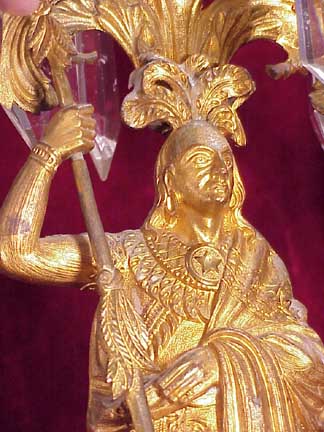 Item number 4631. A rare pair of Girandoles. 1845-1865. Indian Form also known as the "Warrior" model. The pair are identical. Each Indian holds a spear. The American Indian is dressed in Indian attire. The figure is of an Osage Indian Chief modeled after a Catlin Portrait print. A similar example of this girandole is exhibited in the Philadelphia Fine Arts Museum Collection in their gallery of American Decorative Arts. Manufactured by Cornelius Co. of NY between 1845-65. On the center of his chest is a large 5 pointed star. The Indian has long hair and a feather plume head dress. Condition: This pair (which is from a New York City Townhouse) has original very dirty patina; The lusters are period and have multiple edge flakes. Each long prism is 7" long including the button and the shorter prism is 6" long including the button. Missing are 8 smaller prisms and 3 larger prisms. There is no loss to the metalwork. Parrott Bacot's book Nineteenth Century Lighting does not picture these girandoles. In 30 years in the business this is our first pair like these. Size: 19" tall. Marble base is 4" x 6". The Indian is app. 9" tall. Each girandole holds 3 candles and there are two girandoles. The candle luster holders are slightly bent. Price for the pair: $3,500.00.
---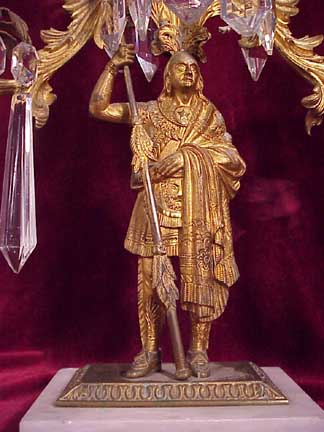 ---
---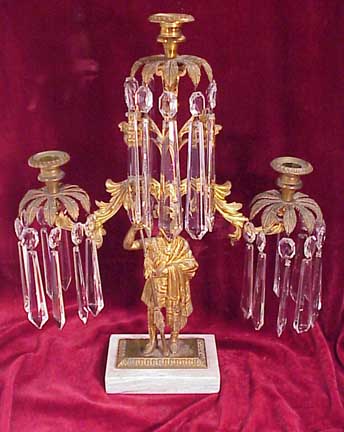 ---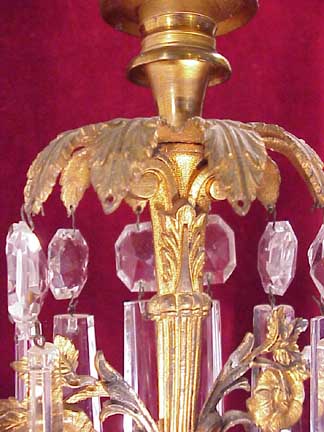 ---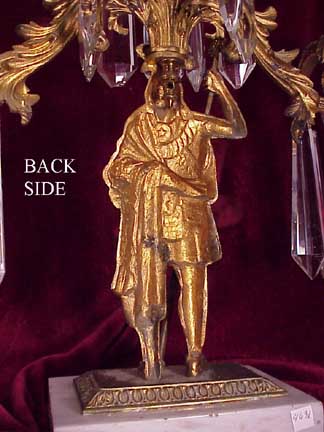 ---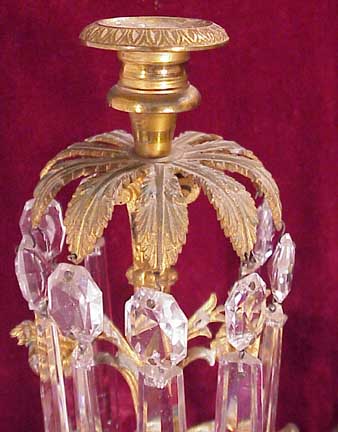 ---
ZSOLNAY // FURNITURE // GLASS // PORCELAIN // POTTERY // METAL
LIGHTING // PAINTINGS // EPHEMERA // TEXTILES // GOTHIC // MISCELLANEOUS
THE DRAWING ROOM OF NEWPORT AND THE ZSOLNAY STORE HOME PAGE
---
The Drawing Room is located at 152-154 Spring Street, Newport, Rhode Island 02840.We are open daily from 11 am to 5 pm and by appointment. If you have an interest in an item listed in this document or wish to purchase an item, please call us at 1-401-841-5060 (cell: 401-261-3980). The Partnership of Gacher and Santi has been in business for over 30 years. We have been located in Newport since 1985. Our email address

is: drawrm@hotmail.com

Free counters provided by Honesty.com.

Visitors since 01-17-01