Fine Art from The Drawing Room.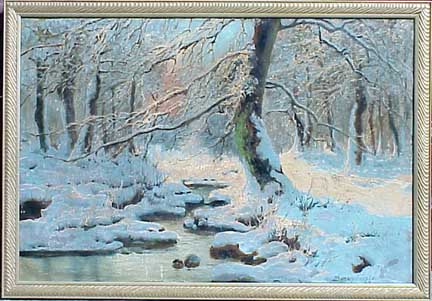 # 4542. An Oil on Canvas. Signed Laszlo Zilahy. Hungarian. The style of this picture is the "Neogrady" style, but I believe that this artist predates those images by several years. We have never been able to find any information about Laszlo Zilahy. When we purchase this painting in Boston many years ago, it had its original large gold leaf frame with a Budapest Stamp on the frame dated 1876. The frame was too large for the area we were displaying the painting so we reframed the painting and sold the frame. Size: 23" x 34". Condition: original stretcher; flakes to the canvas as noted in the photos; crackelature to the surface. The work is stable, has never been cleaned and has not been relined. Price: $2,500.00.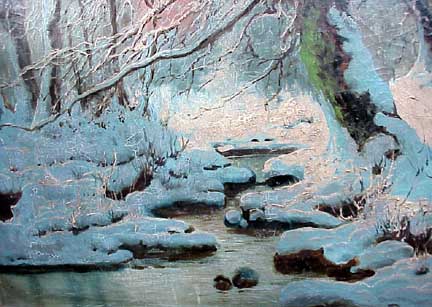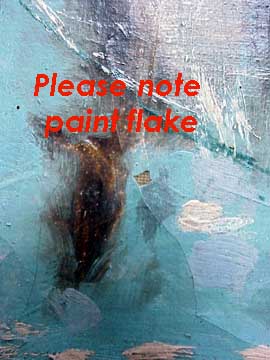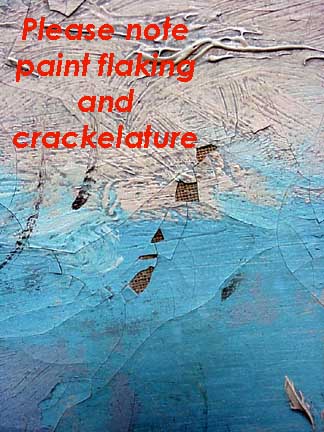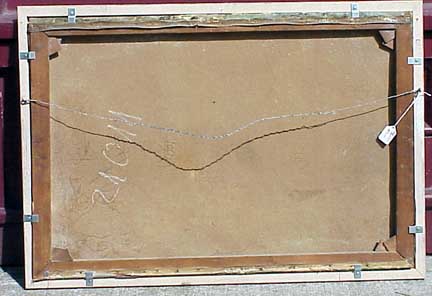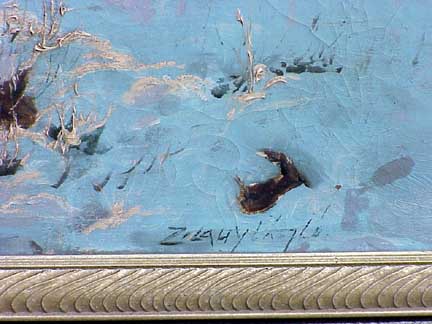 ---
Click on your back button to return to the previous page.
Offering a Luxury Bed and Breakfast Suite in the Heart of Newport
---
HOME PAGE FOR THE DRAWING ROOM OF NEWPORT
ZSOLNAY // FURNITURE // GLASS // PORCELAIN // POTTERY // METAL
LIGHTING // PAINTINGS // EPHEMERA // TEXTILES // GOTHIC // MISCELLANEOUS
---
The Drawing Room is located at 152-154 Spring Street, Newport, Rhode Island 02840.We are open daily from 11 am to 5 pm and by appointment. If you have an interest in an item listed in this document or wish to purchase an item, please call us at 1-401-841-5060. The Partnership of Gacher and Santi has been in business for over 25 years. We have been located in Newport for over 11 years. Our email address

is: drawrm@hotmail.com All images copyright by F. Santi, 2004