Antique Furniture from The Drawing Room.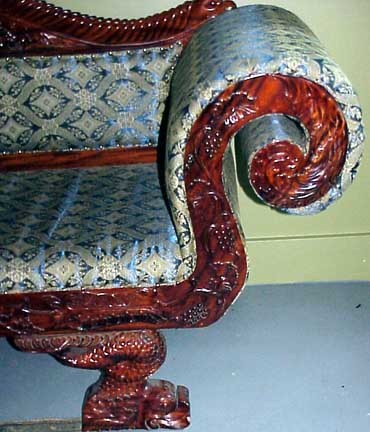 # 4461. A reproduction American Empire Sofa in the style of work by Anthony Quervelle. Size: app. 90" long, 24" deep and the back crest is 34" tall. Condition: The surface at some point in the past has been cleaned, there is a clean break in one of the scrolled arm supports which has been repaired, newer upholstery foundation and textile. We don't know exactly when or were this sofa was made. There are two of them in Newport. The other one is located at Shamrock Cliff, a resort on Ocean Drive in Newport Rhode Island. It is in one of their public rooms. Price: $3,500.00.
The image shows the break in the left arm of the sofa.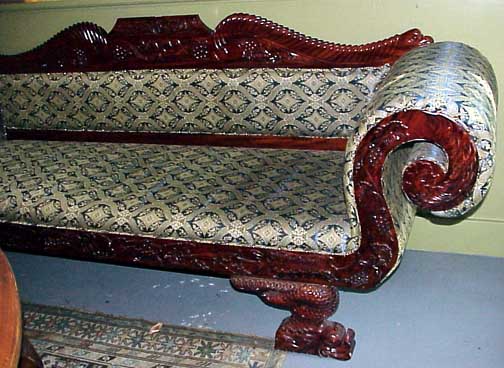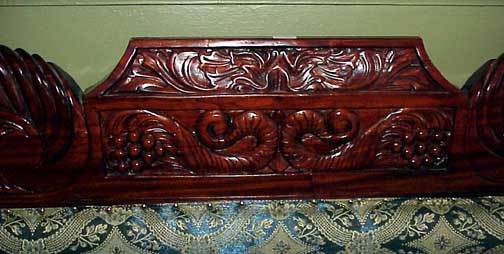 Detail of the back crest.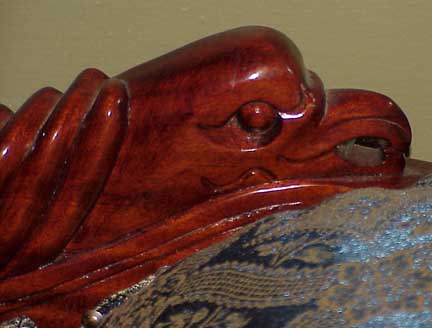 Eagle crest on right side of sofa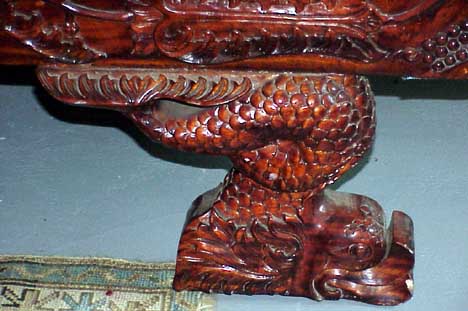 Detail on the right foot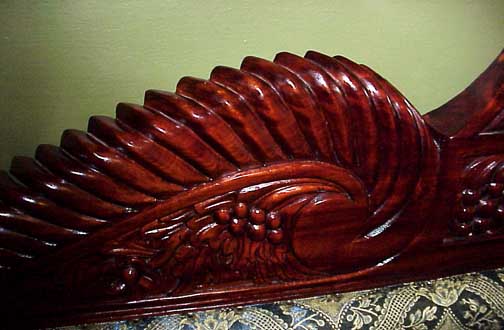 Detail of back cresting.
Click on your back button to return to the previous page.
---
HOME PAGE FOR THE DRAWING ROOM OF NEWPORT
ZSOLNAY // FURNITURE // GLASS // PORCELAIN // POTTERY // METAL
LIGHTING // PAINTINGS // EPHEMERA // TEXTILES // GOTHIC // MISCELLANEOUS
---
The Drawing Room is located at 152-154 Spring Street, Newport, Rhode Island 02840.We are open daily from 11 am to 5 pm and by appointment. If you have an interest in an item listed in this document or wish to purchase an item, please call us at 1-401-841-5060. The Partnership of Gacher and Santi has been in business for over 25 years. We have been located in Newport for over 11 years. Our email address

is: drawrm@hotmail.com All images copyright by F. Santi, 2005
Offering a Luxury Bed and Breakfast Suite in the Heart of Newport
Free counters provided by Honesty.com.