John & Rico's
Antique Pottery from The Drawing Room of Newport.
# 4342. A 4 piece set including three plates (7" diameter) and a cup and saucer.Copper Lustre rims outline hand painted figures from the Bayeux Tapestry. This art pottery service was meant to be used for display. The only person I know of who worked with copper lustre AND Bayeux Tapestry designs was Louis Dismant who worked at tSubles in Normandy. His mark was incised. The backs of these items is incised marked, but with the initials "RB" in hand written script and the word "BAYEUX". Each piece is marked. I would date the service early 20th century. Condition: edge flakes to the lustre but not to the pottery. Price $450.00 the set.
---
---
---
---
---
---
---
---
---
---
Click on your return button to go back to the previous page or:
Enter here for the Pottery site of The Drawing Room of Newport
Offering a Luxury Bed and Breakfast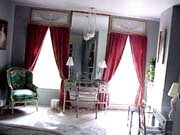 Suite in the Heart of Newport
---
ZSOLNAY // FURNITURE // GLASS // PORCELAIN // POTTERY // METAL
LIGHTING // PAINTINGS // EPHEMERA // TEXTILES // GOTHIC // MISCELLANEOUS
THE DRAWING ROOM OF NEWPORT AND THE ZSOLNAY STORE HOME PAGE
The Drawing Room is located at 152-154 Spring Street, Newport, Rhode Island 02840.We are open daily from 11 am to 5 pm and by appointment. If you have an interest in an item listed in this document or wish to purchase an item, please call us at 1-401-841-5060. (cell phone: 401-261-3980)Our email

address is: drawrm@hotmail.com All images copyright by F. Santi, 2004

Free counters provided by Honesty.com.