The Zsolnay Store
# 312. A Zsolnay Stove. c. 1880's. Composed of multiple sectioned tiles, cemented together to form a complete unit. Comes apart in four sections. Size: 8' 4" tall. Footprint: app. 26" square. The style is Hungarian Renaissance Revival. Condition: edge loss in a couple of areas in which we do not have the small piece. There was a hole in the back for the stove pipe and that has been plastered over. All in all, this stove is in very good condition, it came out of a private apartment in Budapest and we had it packed and shipped by jet from there to the states. Each section is marked with the Zsolnay Factory marks and stove form book number 193. The glaze is a standard Majolica Glaze. Is it possible to use this stove again, I don't see why not, there is evidence of considerable smoke residue inside this stove, so it was used at some point in the recent past. The buyer is responsible for packing and transportation. P.O.R.
---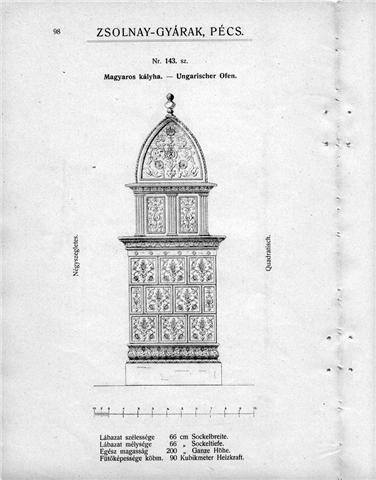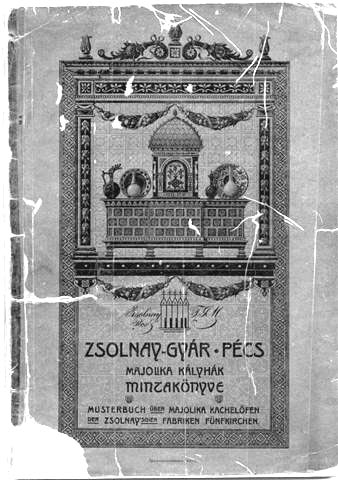 The above engraving is from the Zsolnay Factory Stove Catalogue showing a variation of the stove we have for sale. Our stove is taller than the one shown in the catalogue. The image on the right shows the cover of the catalogue.
---
The lower section of the stove, the door is nickel plated.
---
The upper body
---
Detail of the lower section
---
Deatil of the stove
---
The form really is architectural in style
---
Showing joint marks in the top section.
---
---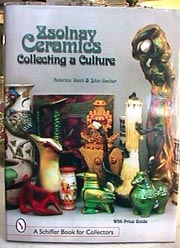 "Zsolnay Ceramics Collecting a Culture" with price guide: "This beautifully illustrated guide to Zsolnay ceramics, featuring over 400 color photographs, covers the three main periods of Zsolnay production, including 1868 to 1897-Folklorism, Historicism & Victorian Eclecticism; 1897 to 1920-Art Nouveau (Secession in Central European terms) and Art Deco (Second Secession); 1920 to the present-Modernism. An entire chapter; fully illustrated is also dedicated to Zsolnay marks to help collectors identity their pieces." This book is 191 pages and is a large format hard cover. The over 400 color photos detail Zsolnay by size, form number, date of production and current market value. Price: $49.95 + shipping.
---
---
The Drawing Room and The Zsolnay Store is located at 152-154 Spring Street, Newport, Rhode Island 02840.We are open daily from 11 am to 5 pm and by appointment. If you have an interest in an item listed in this document or wish to purchase an item, please call us at 1-401-841-5060. The Partnership of Gacher and Santi has been in business for over 30 years. We have been located in Newport since 1985.
---
Email us at drawrm@hotmail.com

If you have an interest in knowing more about Zsolnay, check our Ephemera Link: we stock two excellent publications on the subject of Zsolnay. If you wish an evaluation about a Zsolnay item in your collection, just send us a photo with notations of size, condition and marks along with a self addressed stamped envelope and we would be glad to help you. And . . . of course we are always interested in purchasing fine examples of Zsolnay ceramics.
---
The Drawing Room of Newport and The Zsolnay Store home page

Free counters provided by Honesty.com.

Visitors since 01-17-01