The Zsolnay Store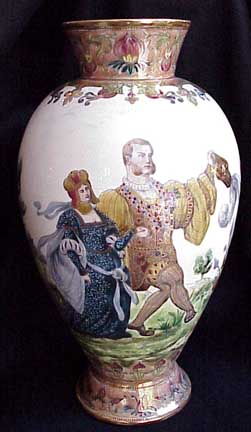 #238 Description Offering a fine and rare Zsolnay vase. Fully illuminated on page 48 and 49 of "Zsolnay Ceramics: Collecting a Culture". As described: "Vase with Renaissance style decoration of a wedding celebration; decor includes much gilding. Decoration att to Armin Klein." 16" tall. Condition: considerable glaze crackelature inluding long and short glaze lines typical with this type of firing. These lines are apparant in the inside and the outside of this vase. This in no way affects the structural integrity of this vase and is consistent with any of the production of "high-fired porcelain faience" produced at the Zsolnay Factory at this time. Price: $4,500.00.
---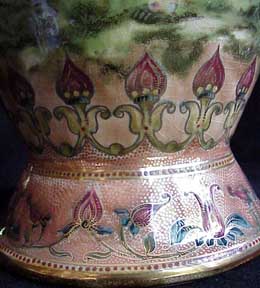 The Foot of the vase showing a Persian Design.
---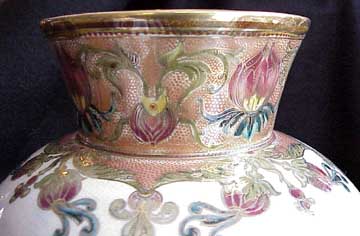 The top of the vase.
---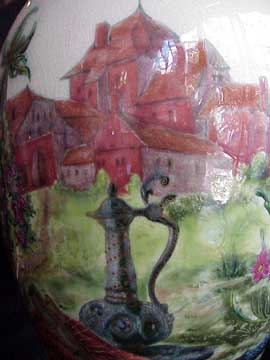 Landscape area of the vase showing a flagon with a castle in the background.
---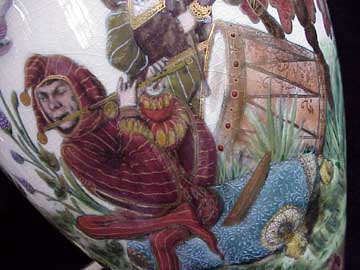 Detail of the Jester playing a flute.
---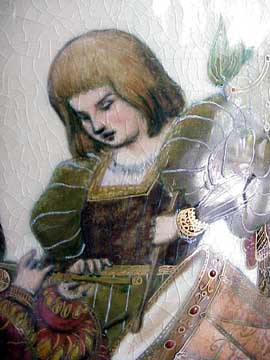 The young lad playing a drum.
---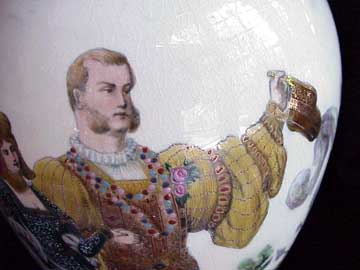 Showing the Prince
---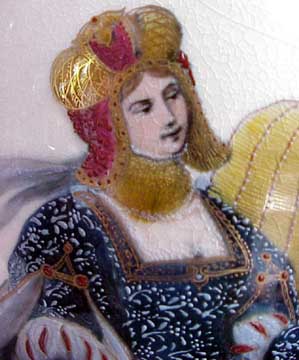 View showing the Princess
---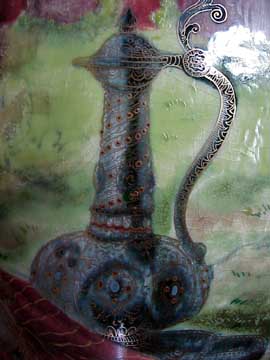 Detail showing the Flagon with much gilt decoration
---
The front of the tunic of the Prince showing raised enamel decorations
---

The factory mark (upside down)
---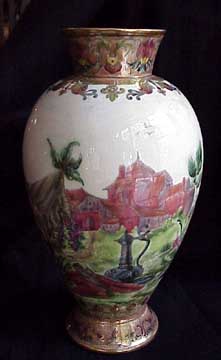 The Castle View
---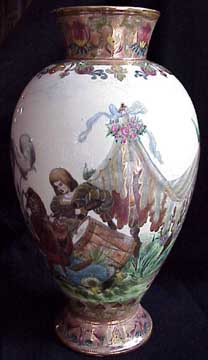 View showing the musicians and the tent.
---
---
The Drawing Room and The Zsolnay Store is located at 152-154 Spring Street, Newport, Rhode Island 02840.We are open daily from 11 am to 5 pm and by appointment. If you have an interest in an item listed in this document or wish to purchase an item, please call us at 1-401-841-5060. The Partnership of Gacher and Santi has been in business for over 50 years. We have been located in Newport since 1985.
---
Email us at drawrm@hotmail.com

If you have an interest in knowing more about Zsolnay, check our Ephemera Link: we stock two excellent publications on the subject of Zsolnay. If you wish an evaluation about a Zsolnay item in your collection, just send us a photo with notations of size, condition and marks along with a self addressed stamped envelope and we would be glad to help you. And . . . of course we are always interested in purchasing fine examples of Zsolnay ceramics.
---