THE ZSOLNAY STORE
Historical Designs: 1870-1890's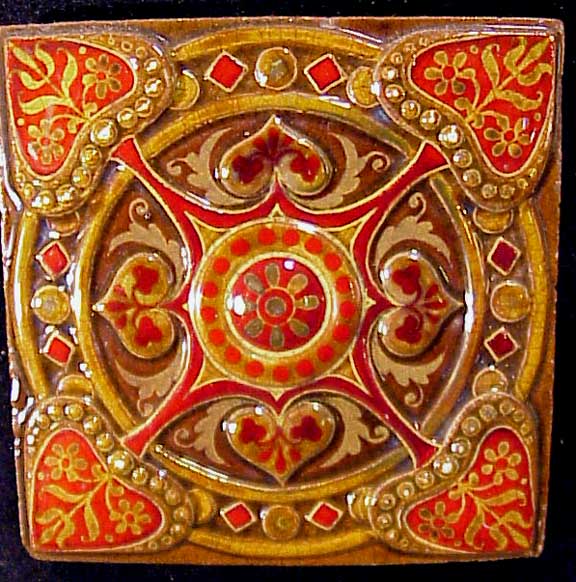 A pair of rare Zsolnay Furniture mounts. c. 1896-1900 in the Millenial Style. Identical to furniture mounts from the office of the Prime Minister's Office in the Parliament Building in Budapest Hungary. Designed by Erno Foerk. As described in the Bard College Exhibition Catalogue titled: "Hungarian Ceramics from the Zsolnay Manufactory" on page 189 (with photos of the mounts) " Fig. 8-4. Ceramic inlay elements for the furniture and interior of the office of the prime minister, 1899. Designed by Erno Foerk; modeled by Lajos Marchenke, Porcelain-faience, hand-pressed into mold, hand painted with eosin glazes." We offer two different Zsolnay furniture mounts. The oval shaped one is 1.5" x 2" and the square mount is 2" square. Condition: there is slight rubbing to the lower section of the oval mount; please also note (the oval tile)that the upper indentation area on either side of the decorations have losses: there were 6 small ball decorations evenly spaced around the oval tile and two of these ball decorations are gone. These Zsolnay furniture decorations have been mounted onto a velvet board (frame size 6.25" x 9.25") with common wood glue. These are rare and beautifully decorated Zsolnay ceramics that seldom come on the market. P.O.R.
---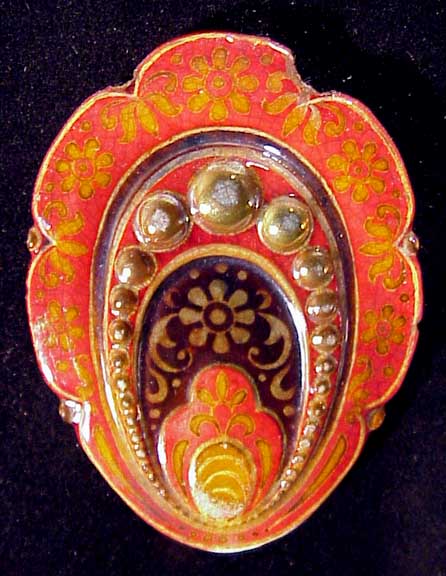 ---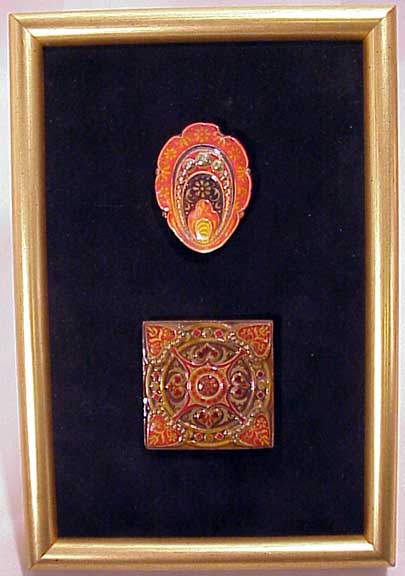 ---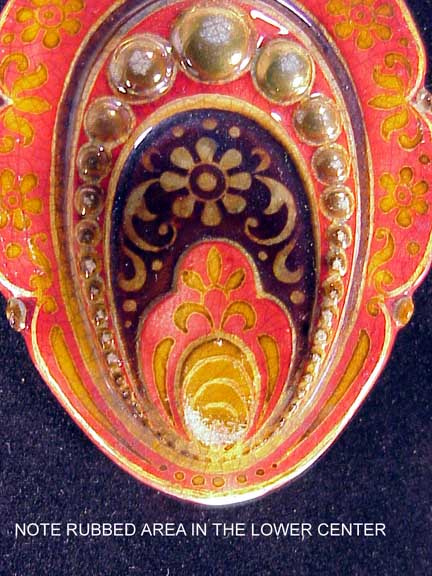 ---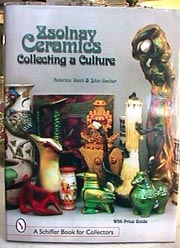 "Zsolnay Ceramics Collecting a Culture" with price guide: "This beautifully illustrated guide to Zsolnay ceramics, featuring over 400 color photographs, covers the three main periods of Zsolnay production, including 1868 to 1897-Folklorism, Historicism & Victorian Eclecticism; 1897 to 1920-Art Nouveau (Secession in Central European terms) and Art Deco (Second Secession); 1920 to the present-Modernism. An entire chapter; fully illustrated is also dedicated to Zsolnay marks to help collectors identity their pieces." This book is 191 pages and is a large format hard cover. The over 400 color photos detail Zsolnay by size, form number, date of production and current market value. Price: $49.95 + shipping.
---
---
The Drawing Room and The Zsolnay Store is located at 152-154 Spring Street, Newport, Rhode Island 02840.We are open daily from 11 am to 5 pm and by appointment. If you have an interest in an item listed in this document or wish to purchase an item, please call us at 1-401-841-5060. The Partnership of Gacher and Santi has been in business for over 30 years. We have been located in Newport since 1985.
Email us at drawrm@hotmail.com

If you have an interest in knowing more about Zsolnay, check our Ephemera Link: we stock two excellent publications on the subject of Zsolnay. If you wish an evaluation about a Zsolnay item in your collection, just send us a photo with notations of size, condition and marks along with a self addressed stamped envelope and we would be glad to help you. And . . . of course we are always interested in purchasing fine examples of Zsolnay ceramics.

Free counters provided by Honesty.com.

Visitors since 01-17-01