John & Rico's
The Zsolnay Store
Item number 192. A rare Zsolnay double-necked vase. Designed for the Turin Exhibition of 1911 by Moric Pogany. Made of Porcelain Faience with metallic eosin glazed. The glaze on this vase reflects the best obtainable at the factory. Along with this vase were designed garden seats, smaller vases and cachepots in a similiar theme. The translation of the text on the vase reads: " There is strength in morality, there is morality in power, to shoulder fate's sad burden and not be discouraged kisses, love, poetry and singing birds have been created." Size: 18.25" tall. Condition: this is a very heavy vase and each corner has been repaired. This vase has Zsolnay factory incised marks (form # 8445). A similiar form was pictured on page 172 of "Panorama: Architecture and Applied Arts in Hungary 1896-1916" and exhibited in Kyoto and Tokyo in 1995 1996. Documented in literature (catalogues, price guides, etc.) Price $3,850.00.
---
---
---
---
---
---
---
The Blue Metallic Eosin Glaze is quite uncommon
---
The design of this vase reflects the design of the pavillion at the Turin Exhibition.
---
---
---
---
---
---
---
---
---
---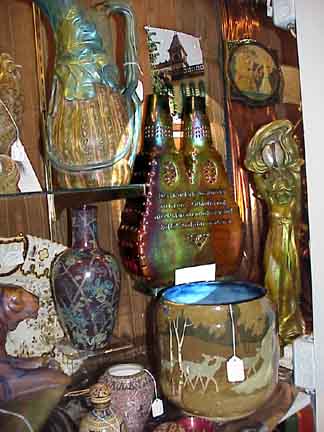 ---
Click on you back button to return to the Zsolnay Store site.
---
---
The Drawing Room and The Zsolnay Store is located at 152-154 Spring Street, Newport, Rhode Island 02840.We are open daily from 11 am to 5 pm and by appointment. If you have an interest in an item listed in this document or wish to purchase an item, please call us at 1-401-841-5060 ( cell 401-261-3980) We have been located in Newport since 1985.
---
Email us at drawrm@hotmail.com

If you have an interest in knowing more about Zsolnay, check our Ephemera Link: we stock two excellent publications on the subject of Zsolnay. If you wish an evaluation about a Zsolnay item in your collection, just send us a photo with notations of size, condition and marks along with a self addressed stamped envelope and we would be glad to help you. And . . . of course we are always interested in purchasing fine examples of Zsolnay ceramics.
---
The Drawing Room of Newport and The Zsolnay Store home page

Free counters provided by Honesty.com.

Visitors since 01-17-01